Mill City String Quartet Virtual Concert and more...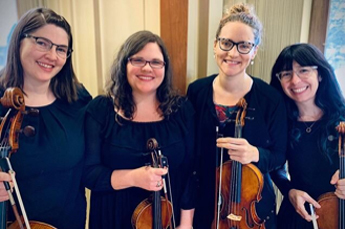 Concert Sponsor: J. Michael Barone 
MILL CITY STRING QUARTET
Saturday, May 1, 2021 — 7:30 pm
PROGRAM:
William Grant Still
Lyric Quartet
Daniel Bernard Roumain
String Quartet No. 3, "Powell"
Jessie Montgomery
Source Code
Samuel Coleridge-Taylor
Five Pieces for String Quartet
and a
Family Concert
Saturday, May 1, 2021 — 2 pm
[scroll down for details]
[Concert video will premiere here on May 1, 2021, at 7:30 PM]

Watch the broadcast concert here or on YouTube through May 31, 2021.
About This Performance
"After the murder of George Floyd in our community, we, like many other Americans, began to think deeply on what we can do to address systemic oppression and white supremacy in our culture. Throughout the history of classical music, BIPOC (Black, Indigenous, and people of color) composers have been traditionally underestimated and underrepresented in classical music, and we choose to both interrupt and smash that tradition. We acknowledge that this performance is possible because of the creativity and work of BIPOC composers, including Daniel Bernard Roumain, Samuel Coleridge-Taylor, William Grant Still, and Jessie Montgomery." – MCSQ
Founded in the fall of 2007, the Mill City String Quartet seeks to create exciting and diverse concerts for from tangos and traditional fare to original material. In addition to their season of public concerts. The quartet frequently collaborates with other musicians and singers around the state, and works with students across Minnesota. They have premiered several new or lesser-known chamber music works.
"The quartet received what can best be described as the raucous applause and cheers usually reserved for rock concerts…"
— Classical MPR
Read or Download the Program  > 
About the Family Concert
People of all ages will enjoy evocative string quartets by three living composers. Hear the many bird sounds in Jennifer Higdon's "An Exaltation of Larks." Experience how Jessie Montgomery takes inspiration from jazz musicians and poets in her string quartet, "Source Code." Learn how listening to her father practice inspired Caroline Shaw to compose her work, "Punctum." You'll come away from the concert knowing more about each of these award-winning composers and these special string quartets!
These activities are made possible by the voters of Minnesota through grants from the Minnesota State Arts Board and the Central MN Arts Board, thanks to a legislative appropriation from the arts and cultural heritage fund.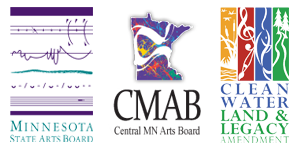 These programs are only possible because of generous support of chamber music lovers like you, who have sustained our concert series for 42 years. We thank you for contributing as generously as you are able when viewing these programs. Gifts of any size are deeply appreciated.
This organization is funded, in part, by the voters of Minnesota through a grant from the Central MN Arts Board, thanks to a legislative appropriation from the arts and cultural heritage fund.