We hope you enjoyed our 2021 Virtual Concerts!
Watch this summer for news of our 2021-2022 season!
Saturday, March 27th, 2021, 7:30 pm
ARTARIA QUARTET
Saturday, May 1st, 2021, 7:30 pm
MILL CITY STRING QUARTET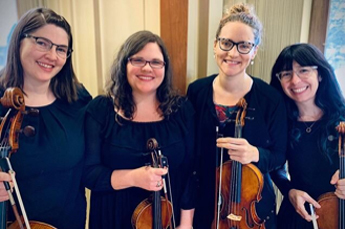 and a Family Concert – May 1 at 2pm
Musicians have been deeply impacted and unable to perform for live audiences. The drastic loss of performance opportunities and income is devastating. Last year about the time we began plans with the Argus for Fall 2020, the spring concerts by the Artaria and Mill City quartets had to be cancelled.
The Chamber Music Society of St. Cloud has invited these ensembles to perform programs for you to enjoy from your living room.
Thanks to funding from ticket donations from our cancelled concerts, music lovers in our community, and grants, these concerts are presented free to you, but the musicians are not asked to play for free. They need support in this difficult time.
Every dollar contributed to the CMSSC helps to pay musicians for their performances.
Thank you!
Local Venues. International Talent.
The Chamber Music Society of St. Cloud presents top professional chamber music groups from around the country and around the world. The goal of CMS is to foster appreciation and enjoyment of chamber music in Central Minnesota. 
We present world-famous as well as young and emerging chamber music ensembles in venues around the St. Cloud area.
We offer programs for audiences of all ages to enjoy this intimate and delightful art form – full-length concerts, school programs, community outreach, Family Concerts, and more.
The Chamber Music Society Invites You to Enjoy: 
The

Richness

of sound produced when musicians perform in acoustically superb spaces

The

Diversity

of music from stylistically authentic periods

The

Beauty

of expertly played and timeless masterpieces

The

Adventure

of hearing new or unusual combinations of instruments

The

Thrill

of discovering a young ensemble on the threshold of a brilliant career

The

Pleasure

of hearing the special rapport that an established group has achieved through years of playing together

The

Luxury

of sitting within a few feet of the performers while they play

The

Excitement

and

Immediacy

that only a live performance can offer

The

Warmth

and

Friendliness

of post-concert receptions with the opportunity to socialize and talk with the artists
All concerts are presented near your home with free parking, your choice of seating, and low ticket prices. Attend one of our local presentations for a truly unique concert experience!
This organization is funded, in part, by the voters of Minnesota through a grant from the Central Minnesota Arts Board, thanks to a legislative appropriation from the Arts and Cultural Heritage Fund.
Chamber Music Society of St. Cloud
P.O. Box 205
Saint Cloud, MN 56302
Sign up for our Newsletter